Population: 3,507 million (2017)
Area: 51 197 km²
Capital City: Sarajevo, Population: 343.000 (2020) 


National capital Sarajevo has a well preserved old quarter, Baščaršija, with landmarks like 16th-century Gazi Husrev-bey Mosque. Ottoman-era Latin Bridge is the site of the assassination of Archduke Franz Ferdinand, which ignited World War I.
In the central and eastern interior of the country the geography is mountainous, in the northwest it is moderately hilly, and the northeast is predominantly flatland. The inland, Bosnia, is a geographically larger region and has a moderate continental climate, with hot summers and cold and snowy winters. The southern tip, Herzegovina, has a Mediterranean climate and plain topography.


Currency
The Bosnian Convertible Marka is the currency of Bosnia and Herzegovina. The currency code for Convertible Marka is BAM, and the currency symbol is KM.

Climate

In Bosnia and Herzegovina, the climate is Mediterranean in the small stretch of plain near the sea, it is colder and more continental in the hilly and mountainous west-central area, mainly because of altitude, while it is continental, with cold winters and hot summers, in the northern plains.
Cold waves from the north and north-east, typical of the Balkan Peninsula in the winter months, bring snow and frost in most of Bosnia, while they only bring wind and a bit of cold in the plain of Mostar.
Precipitation is abundant in most of the country, except in some sheltered valleys and in the northernmost area, near the border with Croatia.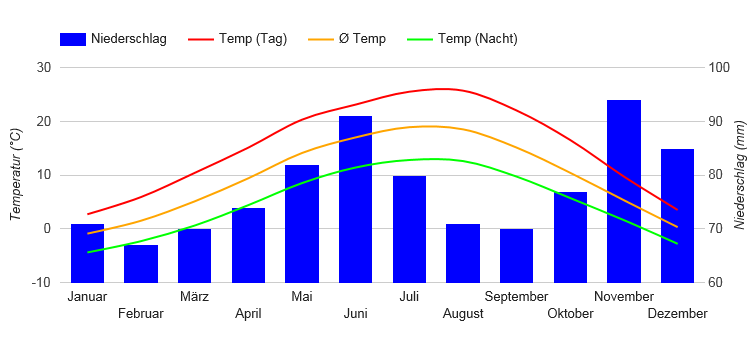 Languages

The official languages in the Bosnia and Herzegovina are Bosnian, Serbian and Croatian. In the Republika Srpska you'll see signs in Cyrillic, so a Serbian-English dictionary would be helpful there.
A lot of Bosnians, especially the younger generation will speak English. A surprising number of young people will also know at least some German, because Bosnian kids learn German at school. The older generations tended to have studied English, French or German in school.
Many Bosnians speak excellent English, but these are professionals and none of them work in hotels, restaurants, bus stations, or drive taxis. Stated positively, every day Bosnians will insist upon buying you coffee and cakes while engaging you in long and deep intellectual discussions, in perfect English. You'll need to learn a little Bosnian to buy a snack at a bakery and tell a taxi driver where you're staying, but this is easy enough.

Economy

Bosnia faces the dual-problem of rebuilding a war-torn country and introducing transitional liberal market reforms to its formerly mixed economy. One legacy of the previous era is a strong industry; under former republic president Džemal Bijedić and SFRY President Josip Broz Tito, metal industries were promoted in the republic, resulting in the development of a large share of Yugoslavia's plants; S.R. Bosnia and Herzegovina had a very strong industrial export oriented economy in the 1970s and 1980s, with large scale exports worth millions of US$.
For most of Bosnia's history, agriculture has been conducted on privately owned farms; Fresh food has traditionally been exported from the republic.
The war in the 1990s, caused a dramatic change in the Bosnian economy. GDP fell by 60% and the destruction of physical infrastructure devastated the economy. With much of the production capacity unrestored, the Bosnian economy still faces considerable difficulties. Figures show GDP and per capita income increased 10% from 2003 to 2004; this and Bosnia's shrinking national debt being negative trends, and high unemployment 38.7% and a large trade deficit remain cause for concern.
The national currency is the (Euro-pegged) Convertible Mark (KM), controlled by the currency board. Annual inflation is the lowest relative to other countries in the region at 1.9% in 2004. The international debt was $5.1 billion (as on 31 December 2014) . Real GDP growth rate was 5% for 2004 according to the Bosnian Central Bank of BiH and Statistical Office of Bosnia and Herzegovina.
Bosnia and Herzegovina has displayed positive progress in the previous years, which decisively moved its place from the lowest income equality rank of income equality rankings fourteen out of 193 nations.
According to Eurostat data, Bosnia and Herzegovina's PPS GDP per capita stood at 29 per cent of the EU average in 2010.
The International Monetary Fund (IMF) announced a loan to Bosnia worth US$500 million to be delivered by Stand-By Arrangement. This was scheduled to be approved in September 2012.

Education

Higher education has a long and rich tradition in Bosnia and Herzegovina. The first bespoke higher-education institution was a school of Sufi philosophy established by Gazi Husrev-beg in 1531. Numerous other religious schools then followed. In 1887, under the Austro-Hungarian Empire, a Sharia law school began a five-year program. In the 1940s the University of Sarajevo became the city's first secular higher education institute. In the 1950s post-bachelaurate graduate degrees became available. Severely damaged during the war, it was recently rebuilt in partnership with more than 40 other universities. There are various other institutions of higher education, including: University "Džemal Bijedić" of Mostar, University of Banja Luka, University of Mostar, University of East Sarajevo, University of Tuzla, American University in Bosnia and Herzegovina and the Academy of Sciences and Arts of Bosnia and Herzegovina, which is held in high regard as one of the most prestigious creative arts academies in the region.

Primary schooling lasts for nine years. Secondary education is provided by general and technical secondary schools (typically Gymnasiums) where studies typically last for four years. All forms of secondary schooling include an element of vocational training. Pupils graduating from general secondary schools obtain the Matura and can enroll in any tertiary educational institution or academy by passing a qualification examination prescribed by the governing body or institution. Students graduating technical subjects obtain a Diploma.

Cuisine


Bosnian cuisine uses many spices, in moderate quantities. Most dishes are light, as they are cooked in lots of water; the sauces are fully natural, consisting of little more than the natural juices of the vegetables in the dish. Typical ingredients include tomatoes, potatoes, onions, garlic, peppers, cucumbers, carrots, cabbage, mushrooms, spinach, zucchini, dried beans, fresh beans, plums, milk, paprika and cream called Pavlaka. Bosnian cuisine is balanced between Western and Eastern influences. As a result of the Ottoman administration for almost 500 years, Bosnian food is closely related to Turkish, Greek, and other former Ottoman and Mediterranean cuisines. However, because of years of Austrian rule, there are many influences from Central Europe. Typical meat dishes include primarily beef and lamb. Some local specialties are ćevapi, burek, dolma, sarma, pilav, goulash, ajvar and a whole range of Eastern sweets. Ćevapi is a grilled dish of minced meat, a type of kebab, popular in former Yugoslavia and considered a national dish in Bosnia and Herzegovina and Serbia. Local wines come from Herzegovina where the climate is suitable for growing grapes. Herzegovinian loza (similar to Italian Grappa but less sweet) is very popular. Plum (rakija) or apple (jabukovača) alcohol beverages are produced in the north. In the south, distilleries used to produce vast quantities of brandy and supply all of ex-Yugoslav alcohol factories (brandy is the base of most alcoholic drinks).

Religion

According to the 2013 census, Islam is the majority faith in Bosnia and Herzegovina, making up 51% of the population with Sunni Muslims making up 38% and the rest are either Shia or follow other denominations or don't identify with any denomination. 46% of the population identify as Christian; of these, the Serbian Orthodox Church makes up the largest group, accounting for 31% of the population (of whom most identify as Serbs), and the Roman Catholic Church 15% (of whom most identify as Croats). The smallest groups are Agnosticism 0.3%, Atheism 0.8% and other 1.15%, with the remainder not declaring their religion or not answering 1.1%. A 2012 survey found 54% of Bosnia's Muslims are non-denominational Muslims, while 38% follow Sunnism.

Stay safe

If you plan on traveling off the beaten path in Bosnia, be aware that the nation is still in the process of clearing many of the estimated 1 million land mines left around the countryside during the war of 1992-1995. In rural areas try to stay on paved areas if possible. Never touch any explosive device. Houses and private property were often rigged with mines as their owners fled during the war. If an area or property looks abandoned, stay away from it.
Beside this, Bosnia and Herzegovina is a very safe country. Small towns do not face almost any serious crimes, but this is not the case with Sarajevo. Pickpocketing, reckless drivers, thefts and fights are becoming daily news from Sarajevo and some foreigners have been victims, too. Although the chances for you to be affected by this are small, be careful – small crimes have been on rise in recent years and it seems officials are not able to solve this growing problem in Sarajevo. The city is still much safer than many other capital cities in Europe, but reputation "the safest capital in Europe" is very questionable.
Do not try to cross the street on the crosswalk and expect people to stop. Bosnians have very poor traffic culture and you might get hurt.

Stay healthy

All Bosnian employees undergo regular health checks to ensure that they are physically capable to do their jobs and that they will not transmit any disease or injure anyone. People in the food industry are particularly checked and random health and safety checks for the premises are held often. Food providers are held to the highest standards. A Bosnian kitchen is expected to be spotless and food safety is very important.
All tap water in Sarajevo is clean, pure and most definitely safe. However in other parts of Bosnia, especially the Posavina Region and Eastern Bosnia, drinking tap water is highly discouraged as it is the cause of illness. Boiled tap water is still not safe to drink. Most cities in these regions have tap areas (especially near hospitals) with clearly marked labels reading "Water for drinking". This water is safe to drink as well as bottled water you can buy in shops and from street vendors.
Be aware of the harmful thick smog that blankets cities such as Sarajevo, Zenica, Tuzla, Brčko and Visoko. If you are an asthmatic or sensitive on the lungs, be sure to wear a medical mask as to avoid illness and wrecking your trip. Air pollution is caused by emissions from industry, motor vehicles and burning of rubbish, which is very common around the country. It is worst during the winter time in Sarajevo when soot covers the basin. It is recommended to escape to the mountains on bad days, and to breathe clean air found above the "smogbank".
If getting a tattoo then ensure that the instruments are sterilised. While this may be a common practice, one should still be careful.
Since the food is very rich, some extra exercise may help
And as above, never walk off dedicated paths in case of land mines.